Hassle free TV Wall Mounting in
Portishead
Bristol
Clevedon
Nailsea
Clifton
Long Ashton
Failand
Avonmouth
Patchway
Pill
Portbury
Wraxall
Backwell
Yatton
W-S-M
Avon
Somerset
for your home or office
New TV? Have it wall mounted by a skilled handyman
TV Wall Mounting Service
Book a skilled TV Wall Mount Handyman
Get in touch to discuss a fixed price quote
TV Wall Mounting service from £50

Have your TV Wall Mounted by an experienced handyman.
4 Simple Steps to have your new TV wall mounted
A fully equipped specialist is on their way
We'll arrive at the arranged time

Choose where you want the TV to go
The best spot to install the TV is determined
Relax and enjoy
We'll install the TV where you want it to go, so you can sit back and enjoy your favorite show.
– Please have the TV and the mounting brackets available for installation when the handyman arrives.
– The wall where you want the TV installed should be sturdy in order to hold the additional weight once the TV has been wall mounted.
– To give you a fixed quote for the service, we need to know the type of wall the TV will be mounted on and the size of the TV.
– Plasterboard walls may need to be reinforced with wood in order to hold the extra weight of the TV.
*Minimum time per appointment is 1 hour at £50. After the first hour, we will charge on a half-hour basis. Prices are inclusive of all taxes.
T&C and Minimum Charges apply.
When we calculate the price, we also take into consideration the area's dimensions and the time of the appointment.
Prices are subject to availability. Parking and Congestion charges are charged additionally  (when applicable).
A Reliable TV installation service
Experienced Technicians
Our specialists will know how to fit your TV on different types of wall such as plasterboard walls, where a wooden fixing can strengthen the wall.
All the correct Tools & Equipment
We'll use a wire & pipe detector to make sure behind the wall is clear.
Spirit Level – no one wants an unlevel TV now do they? A drill and any other necessary tools to get the job done.
Here are a few brand names where you can find a TV wall mount ready for us to come round and fit it for you:
Mounting Dream, Sanus, Vogel's, Duronic, Ross, Ultimate Mounts, VonHaus, Peerless, AVF, One for all, Sandstrom, ProperAV,  Lumi.
Friendly, helpful TV fitters
When choosing Handyman Home to install your TV wall mount, know we'll do it with a smile.
TV Wall Mount Service in Bristol
Handyman Home can wall mount TV in Portishead, Clevedon, Nailsea, Bristol, Weston-Super-Mare (W-S-M) (WSM), Yatton, Congesbury, Wraxall, Filton, Failand, Patchway, Avonmouth in North Somerset, UK.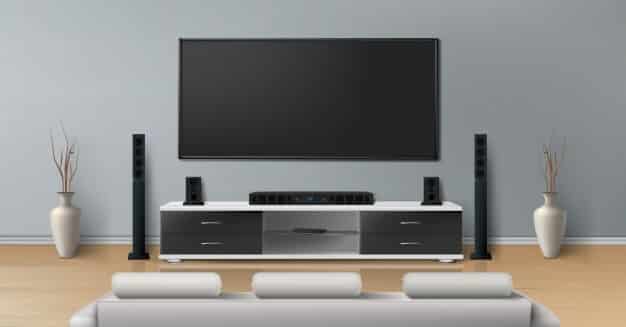 TV wall-mounting specialists
As televisions become bigger, more complicated and expensive, it's a wise decision to get a seasoned professional to set things up for you right from the start by using a Professional TV Wall Mounting and Installation Service.
At Handyman Home Ltd we ensure your TV is looking great on that wall, we'll always do our best to hide those cables out of sight too. 
Need help deciding which TV and/or Wall Bracket to choose? 
Get in touch with us to see how we can help you get the perfect Television all setup and ready to go, below.
Need safe, reliable help in Bristol, Portishead, Clevedon & Nailsea?